Tamarind Chilli Salmon with Green Mango and Herb Salad
Tamarind and fish is a delicious combo! This dressing is yummy but pungent with the addition of the shrimp paste, so use as little or as much as you desire. If you prefer it less sweet, pull back on the gula Melak. Audra Morrice shares this delicious recipe from her book Cook & Feast.
SERVES 4
INGREDIENTS
600 g (1.3 lbs) salmon fillets, cut into 4-cm (1.5-in) cubes, patted dry with paper towels
Sea salt
Fresh cracked black pepper
Crispy shallots
Oil
For the tamarind chilli dressing
5-10 g (0.2-0.4 oz) large dried red chillies (see note)
2 cloves garlic, peeled, minced in a mortar and pestle with a pinch of salt
5 g (0.2 oz) belacan (shrimp paste)
65 g (2.3 oz) gula Melaka, shaved
25 g (0.9 oz) tamarind pulp, soaked in 150 ml (3/5 cup) hot water, rendered and sieved 11⁄2 tablespoons lemon juice
2 large kaffir lime leaves, finely julienned
For the green mango and herb salad
1⁄2 telegraph cucumber or
1 Lebanese cucumber, unpeeled, shaved into ribbons
1 green mango, peeled, shaved into ribbons
1 small bunch coriander leaves
1 small bunch Thai basil leaves
2 wing beans, finely sliced
Squeeze of lemon juice
Pinch of sugar
Olive oil
METHOD
Season the fish with salt and pepper and a drizzle of oil.

Place the soaked dried chillies and garlic in a food proces- sor and blend until a fine paste.

Heat 2 tablespoons of oil in a small saucepan over medium heat, add the shrimp paste and mash with a wooden spatula. Cook for a minute until the shrimp paste becomes fragrant and starts to toast. Add the chilli garlic paste and continue to cook, stirring frequently, until fragrant.

Add the gula Melaka and cook until dark, glossy and sticky. Slowly pour in the tamarind puree. Cook until slightly thickened, then stir in the lemon juice and sprinkle on the kaffir lime leaves. Remove from heat and set aside.

Heat a non-stick fry pan over high heat. Place the fish pieces skin side down evenly around the pan and cook until crisp and golden. To ensure that the skin is evenly crispy, you may need to gently press with a spatula to keep the skin flat on the pan. Turn over, and cook the other side until three-quarter cooked. Pour over the tamarind chilli sauce and toss very gently to just coat. Be careful not to break up the fish pieces.

Combine the salad ingredients, and dress with lemon juice, sugar and olive oil just before serving.

Transfer the fish onto a serving plate along with all the sauce and top with the green mango, cucumber and herb salad. Sprinkle with crispy shallots and serve immediately.
Note: Adjust the quantity of the large, red dried chillies according to your taste. Also, leave the seeds in if you like the dish extra spicy, otherwise, deseed them. In any case, soak the chillies in hot water until softened before using them.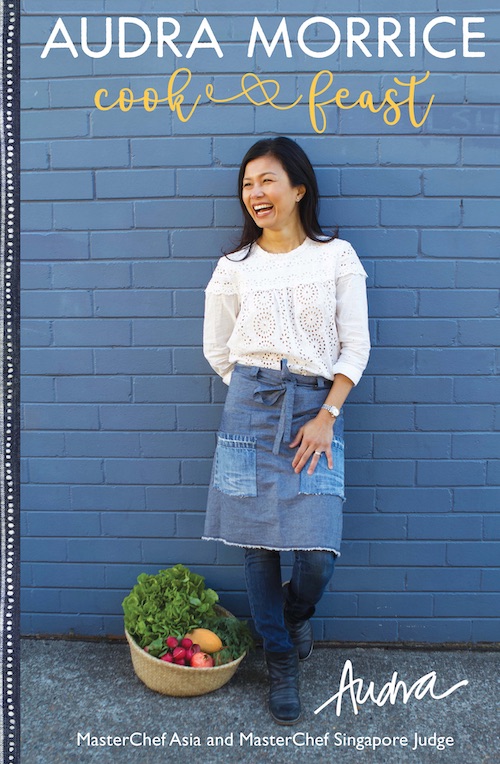 Cook & Feast by Audra Morrice (Landmark Books, $39.99) is available now