Fig, Almond And Honey Cake
Audra Morrice shares this delicious recipe from her book Cook & Feast. "One of the many things I crave is to have a fig tree in my garden. One that bears lots and lots of fruit. You'd likely find me climbing it to reach that perfectly ripe fruit at the top," says Audra. "It's one of life's pleasures to be able to pick a ripe fruit, tear it apart and just enjoy it.Then, to be able to cook with it, put it into tarts, cakes, salads, roasts... the list is endless. For this recipe, make sure you pick up lovely ripe and juicy figs!"
SERVES 12 – 16
INGREDIENTS
100 g (3.5 oz) fig jam (optional)
5-6 fresh large ripe figs (about
300 g, 10.5 oz), quartered 2 teaspoons honey
15 g (0.5 oz) almond flakes, toasted
180 g (6.3 oz) unsalted butter, at room temperature
150 g (3⁄4 cup) caster sugar
3 eggs, lightly beaten
2 teaspoons vanilla extract or 1 plump vanilla bean, seeds scraped
180 g (6.3 oz) almond meal 80 g (2.8 oz) plain flour, sifted Pinch of salt
80 g (2.8 oz) natural or Greek yoghurt

METHOD
Preheat your oven to 190°C (375°F). Butter and line a 23-cm (9-in) loose-base or spring-form cake tin with greaseproof paper.

Cream the butter and sugar until light and fluffy. Slowly drizzle in the eggs while whisking, ensuring each addition is fully combined before the next little drizzle. Add the vanilla and whisk lightly. Fold in the almond meal, flour and salt until just combined. Then lightly fold in the yoghurt.

Roughly spread half the cake mix on the base of the tin. Spoon in the fig jam, if using. Spoon over the remainder of the mixture. Use a knife to make swirls in the cake mix then press in each fig flesh side up randomly over the top. Drizzle with honey and sprinkle over the almond flakes.

Lower the oven temperature to 170°C (338°F) and bake for about 60 minutes or until a skewer pierced into the middle of the cake comes out clean. Remove from the oven, cool the cake in the tin for about 10 minutes. Then remove and allow to cool completely on a cake rack.

Transfer the cake fig side up onto a cake stand. Sieve over some icing sugar and serve Note: Adjust the quantity of the large, red dried chillies according to your taste. Also, leave the seeds in if you like the dish extra spicy, otherwise, deseed them. In any case, soak the chillies in hot water until softened before using them.

Note: If you are including the fig jam, choose one that is less sweet and has chunky bits of fig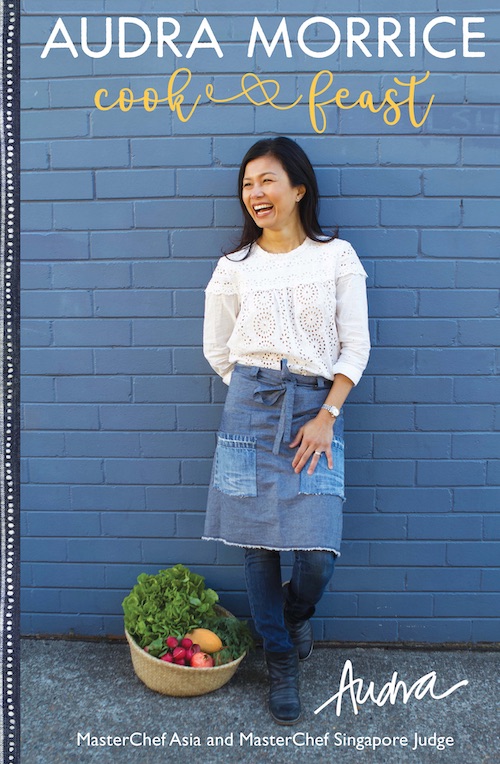 Cook & Feast by Audra Morrice (Landmark Books, $39.99) is available now